Nitrogen-filled oven
Product Details
The Yihexing nitrogen filling oven is equipped with a nitrogen device, which can directly pass inert gases such as nitrogen, hydrogen and other gases, so that the workpiece can be heated and decarburized without heating at high temperature. With the imported nitrogen flowmeter, the flow rate of nitrogen can be controlled more accurately into the tank, and it is equipped with a quick plugging and filling nitrogen port to facilitate nitrogen filling and control of nitrogen flow, so that each nitrogen can be fully used. The performance of the circulating air duct and the heating structure of the nitrogen-filled oven are different from those of the ordinary oven, which mainly prevents the product from being oxidized by moisture and better protects the product. Widely used in precision, machinery, electronics, electrical, chemical, environmental protection and other industries.
First, the characteristics of the nitrogen-filled oven box structure:
◆External material: 1.2mm thick cold-rolled steel sheet for external use. The surface is treated by degreasing, surface conditioning, descaling, phosphating and powder spraying. The overall color is computer ash.
◆Internal material: It is made of 1.2mm#430 thick stainless steel stencil inside.
◆Bottom structure: 4 feet to adjust the level at the bottom.
◆Insulation structure: 100K aluminum silicate and glass wool combination, excellent thermal insulation effect.
◆The overall structure: 1, single door, to facilitate the entry and exit of goods.
2, the height of the working room shelf can be adjusted
3, pressing pressure handle, aluminum silicate fiber sealing sliver, good sealing, long life
Second, the nitrogen-filled oven technical parameters:
◆ Temperature range: normal temperature - 250 °C.
◆Circulation system: adopts the horizontal air circulation mode, the uniformity is good, and the empty box does not exceed ±2°C.
◆Heating system: It adopts stainless steel U-shaped heating tube, and the continuous service life can reach 50,000-60,000 hours.
◆ Temperature control device: intelligent PID thermostat with PID self-tuning, automatic constant temperature and other functions.
◆ Temperature measuring device: stainless steel PT100 platinum resistance temperature sensing device, accurate temperature measurement.
◆Over-temperature protection: Over-temperature protection device, automatic heating power supply is cut off at over temperature.
◆ Timing mode: boot timing / thermostat timing optional
◆ Current and voltage: 220/380V*3 two-phase/three-phase four-wire.
◆ Protection device: leakage protection, power failure protection, motor overload protection, over temperature protection, fault indicator.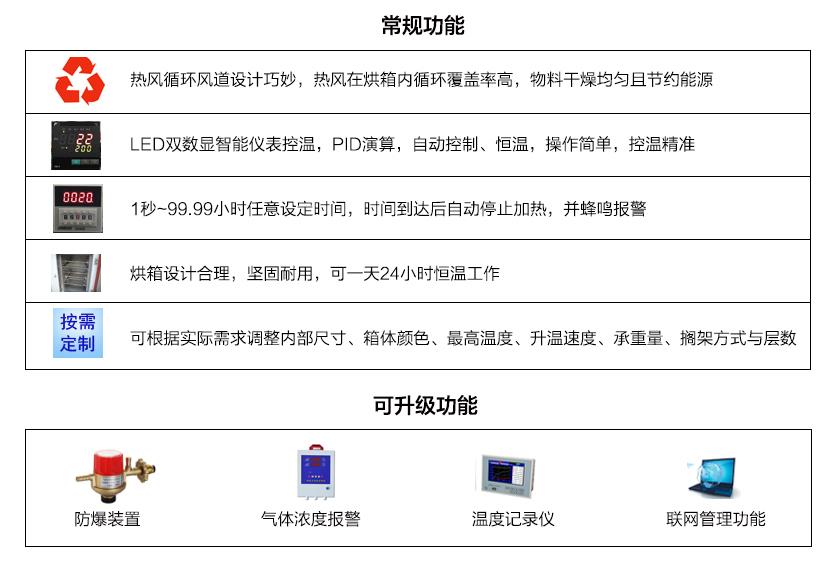 Inquiry