Yihexing's 93rd China Electronics Show ended perfectly
- 2019-04-11-
         On April 11, the 93rd China Electronics Show ended in Shenzhen Convention and Exhibition Center. The exhibition is based on the theme of "One-stop selection and procurement platform for new technologies and new products". The exhibition area is nearly 10,500 square meters. More than 1,000 exhibitors from the middle and lower reaches of the electronic industry chain are present and more than 30,000. Buyers and professional visitors watched the exhibition and jointly created an electronic industry event!
As a company with automated production equipment and non-standard customized equipment, Yihexing is committed to providing customers with high-tech and cost-effective production equipment and supporting solutions. The electronic moisture-proof cabinets, nitrogen cabinets, electronic aging ovens, hot air circulation ovens and other products exhibited at the exhibition were well received at the exhibition, and many orders were signed at the scene.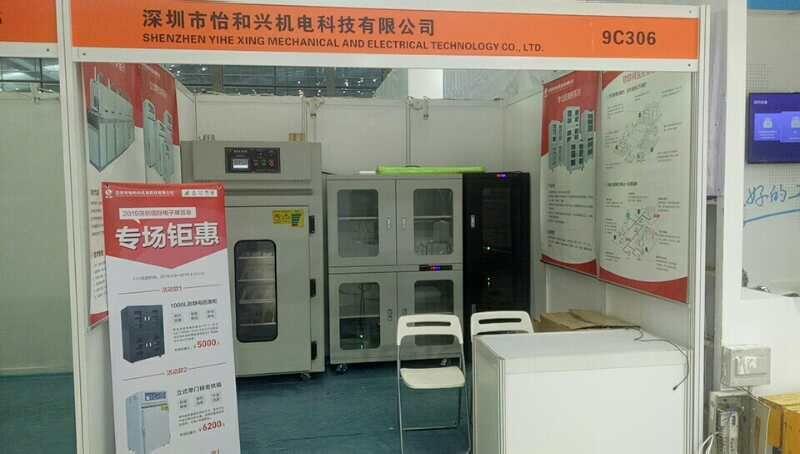 At the exhibition, a number of new and old customers were also ushered in. The business personnel and old customers exchanged and communicated new products, maintained good relations and promoted further cooperation. At the same time, we will establish new contacts with new customers by introducing the company's situation, product specifications and performance characteristics to new customers, and further develop potential markets, laying a solid foundation for the company's market expansion and sales growth.
The 93rd China Electronics Show has achieved great success. Through in-depth communication and communication with new and old customers, it further promoted the company's products, enhanced the company's brand image, and witnessed the development and growth of various electronic industry chains.