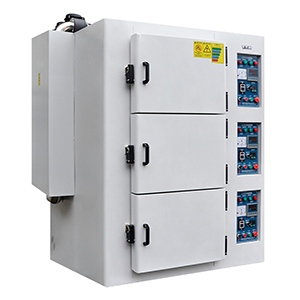 High temperature precision oven
Product Details
The temperature of Yihexing high-temperature precision oven can reach 400 degrees. The unique three-door three-control design, each box is independently controlled, which is convenient for a variety of products to be produced or tested on the same machine, reducing costs and facilitating energy saving. It can also be modified and customized in one or more boxes according to the process requirements of the product. The oven working area adopts hot air circulation to heat the material at a constant temperature, with high temperature control precision, uniform temperature, rapid temperature rise and temperature reduction, and improved product quality. Applicable to all kinds of ceramic products, Teflon coating, aluminum product annealing, bearing preheating and other high temperature dry environments.
        【Basic parameters】
        Outer size: H1750*W1290*D1500mm / on-demand
        Inner size: H(400*3)*W600*D850mm / on-demand
        Working temperature: Normal temperature ~400 °C (temperature adjustment setting)
        Temperature uniformity: ±3 °C (no-load constant temperature 20 minutes test)
        Temperature control accuracy: ±1 °C
        Power supply voltage: 380V/220V, 50HZ
        Structural features: external cold-rolled steel plate, stainless steel inside, adjustable shelf, greatly improving the utilization of internal space.
        Seal design: The sealing strip is made of silica gel strip, which can resist temperature and deformation. The door and liner are double-layered to enhance the sealing effect.
        Temperature control mode: intelligent temperature controller, PID automatic calculation, LED display, with SSR solid state relay output, can accurately control temperature accuracy
        Heating device: stainless steel U-shaped heating tube, service life up to 30,000 hours
        Timing device: 1 second ~ 99.9 hours constant temperature timing, timing mode can be selected, time to automatically cut off heating and buzzer alarm
        Control and safety: Configure leakage protection, power failure protection, motor overload protection, and over temperature protection.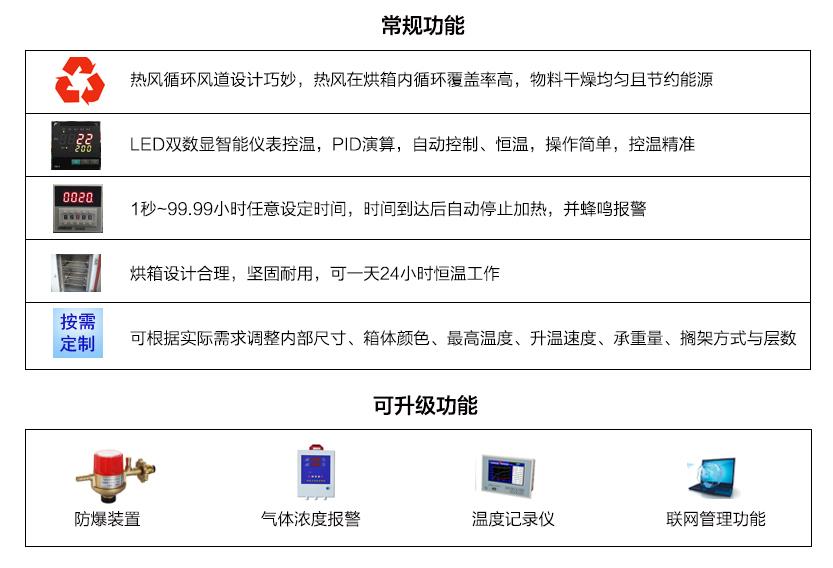 Inquiry